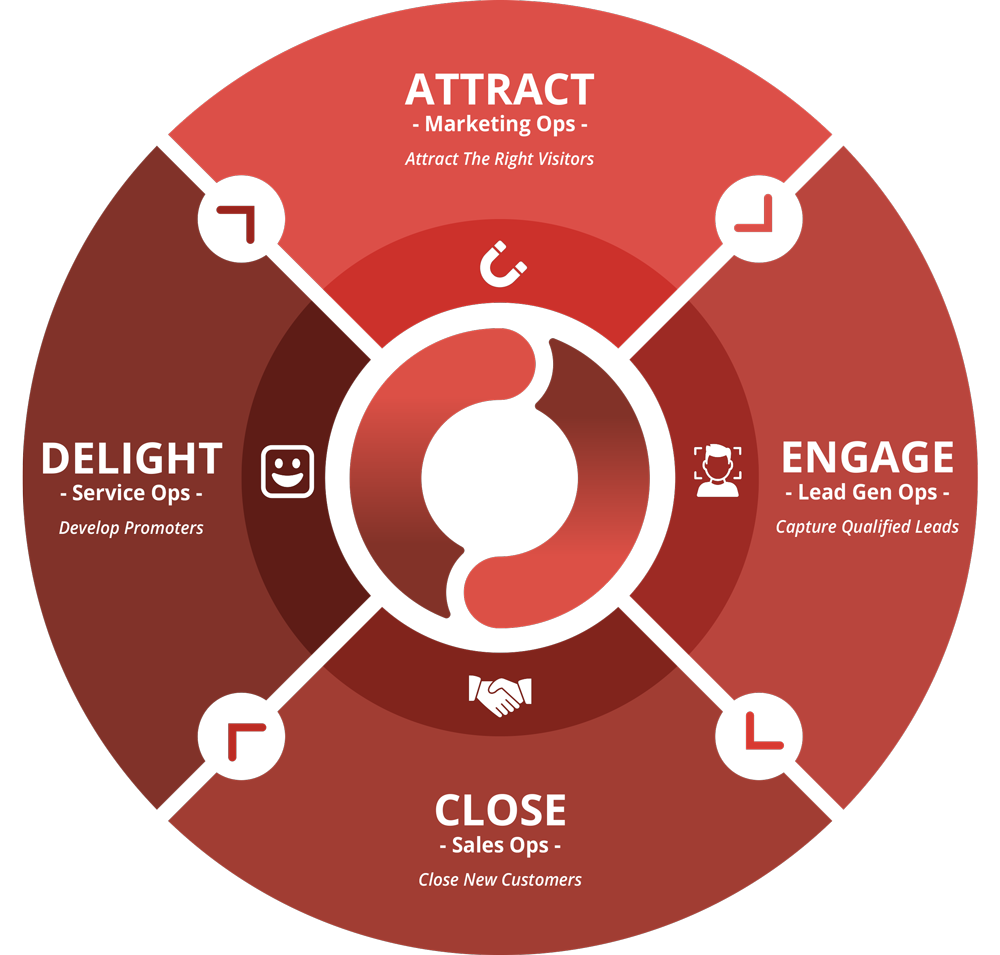 Revenue Operations is the strategic integration of your marketing, lead generation, sales, and service functions. We use a RevOps framework to optimize revenue potential across your organization, identifying and closing gaps in your operations. We believe that it's important to look at your business as a whole to build and execute effective strategies and drive long-term end-to-end success.
RevOps helps ensure continuity in the customer experience from the first moment they become familiar with your company to when your efforts turn them into promoters for your brand.
Marketing Ops refers to the strategies or actions that help bring more visitors to your website and drive overall awareness of your company and brand.
Example KPIs:
Social Media Engagement
Impressions
Visitors
Example Tactics:
Content Marketing
Paid Ad Campaigns
Public Relations Outreach
Sometimes found under a "Marketing Ops" label, we see Lead Generation Ops as specifically the strategies and actions that convert website visitors into leads.
Example KPIs:
New Contacts
Qualified Leads
Example Tactics:
Optimized Landing Pages
Calls-to-Action
Content Offers
Live Chat
"Sales Operations" is effectively your sales process. It refers to the strategies and actions you use to identify, nurture, and close new business.
Example Tactics:
CRM Implementation
Sales Automation
Sales Collateral
Nurture Email Campaigns
Video Prospecting
"Service Operations" refers to the strategies and actions you use to turn customers into promoters who help generate new business for your company.
Example KPIs:
Cross-Sold Revenue
Customer Retention
Referrals
Reviews
Example Tactics:
Review Solicitation
Customer Newsletters
How We Work Together

Every business is unique and requires a deep dive into what's working and what's not.
We build a custom marketing plan that focuses on closing the gaps and driving results.
Execute your strategy on an ongoing basis with optimizations along the way.
Let's start working together today.